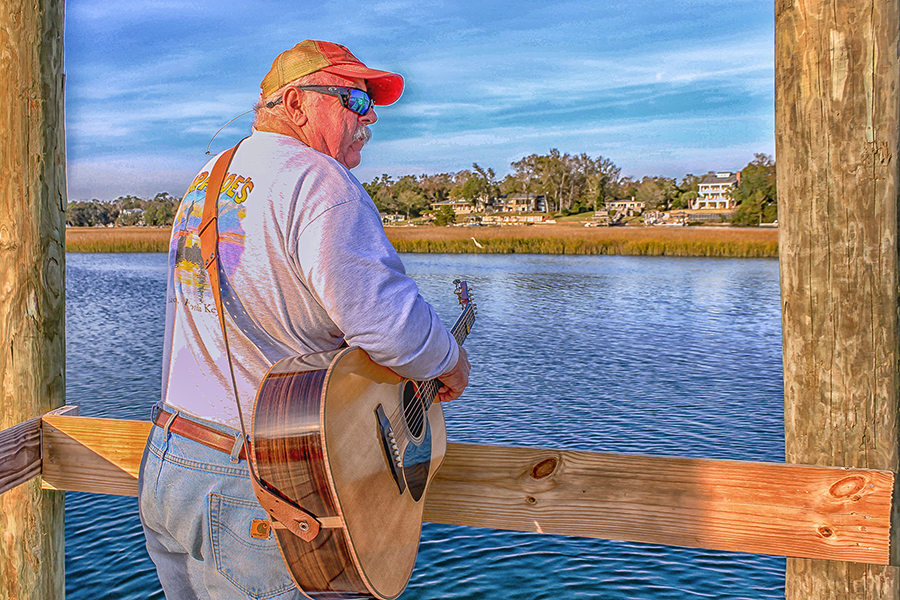 For those of you who follow Chris on his Facebook pages, you already know that a longtime friend and partner of Chris' died recently. Larry Simpson, owner of Silver Buckle Records, TBN Radio and more, passed after a long struggle against COPD.
He was a HUGE promoter and friend to Chris over the years and a major reason for many of Chris' number 1 hits.
He will be sorely missed by Chris and company!
Never fear, though, Chris is hard at work on his next project: "No Batteries Needed." MUCH MORE on this over the coming days and weeks. So, please make sure you keep checking out this blog for updates and dates!
At this time, no dates have been written in stone, but it will be soon when Chris will be hard at work smoothing out some songs and entering the studio.
And, at least for now, there are still live gigs in the area. Here are the gigs on the calendar for the next two weeks:
Buddy's Crab House & Oyster Bar in Surf City – August 19th from 6:00 pm until 9:00 pm.
Jinks Creek Waterfront Grille – August 21st from 6:30 pm untik 9:30 pm.
Quarter Moon Books, Gifts & Wine Bar – August 27th from 8:00 pm to 10:30 pm.
Mythic Brewing at Cedar Point – August 28th from 6:00 pm until 9:00 pm.
Willy Nilly Warehouse – August 29 from 3:00pm until 6:00 pm.
Everyone loves a good mystery, right? Whether it's in a book, on TV, a movie, or even the newspaper. Well, stay tuned for a fictionalized version of a murder mystery that happened in Nashville and involved familiar names. And, it has been stored in the vault of Chris' brain for many years. Now, a collaboration between Chris and Vicki, will (hopefully) bring you some entertainment as well as a look behind the scenes of the music business' less than savory side.
In the meantime, sit back, crank up the sound, and check out Chris tribute to Larry Simpson:
Rest in Peace, Larry. You will be missed.
In the event that Covid brings a new lockdown, keep in mind the warm days, the waterways and the ocean and Captain Chris Bellamy's Charters.
If you are looking for a fishing charter, or tour of the sound, keep Captain Chris in mind! You can schedule the Chaos Skiff or the Dream Lady 2. Captain Chris knows these waterways like the back of his hand – and even better, he knows the history and the people that made that history!
To reach Captain Chris, his email is: chaoskiff@gmail.com or he can be reach on phone at 910-512-0055.
Not only will you get the history and see the best sights, you will hear the history from someone who knows much of it first-hand!
If you are still hosting an event in the area, don't forget the holder of 9 #1 hits it right here in the Wilmington area: Mr. Chris Bellamy! AND, he would love to play his music for you and your guests!
So, from everyone here at CBR, have a great week, stay safe and well, and keep listening to those Chris Bellamy tunes!!
Vicki